Avv. Antonio Coaccioli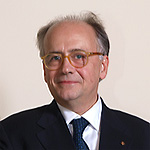 Born in Serravalle Pistoiese (Pistoia) on 3 November 1951.
Admitted to the Perugia Register of Lawyers in 1979 and the register of lawyers able to appear before the Superior Courts in 1979.
Education:
University of Perugia (Bachelor of Laws, 1976).
Professional Memberships:
AGLI Association of Italian-Speaking Lawyers; AIDP International Association of Penal Law; UIA International Association of Lawyers; IBA International Bar Association; AEDBF European Society for Banking and Financial Law; IDI International Distribution Institute; Association of Lawyers for Europe; LES Licensing Executives Society; American Chamber of Commerce in Italy; British Chamber of Commerce for Italy; Italian-Chinese Chamber of Commerce; Arbitral Chamber of the Perugia Chamber of Commerce; Credimpex Italia.
Academic Roles:
contract professor in the Faculties of Law and Political Science, University of Perugia, since 1999. Subject taught: international contract law.
Practice Areas:
domestic and international commercial law, economic criminal law, banking law, arbitration.