Ing. Ercole Bonini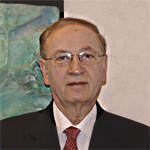 Born in Perugia on 10 May 1941, in 1980 Mr Bonini began work as a consultant in industrial property. He established STUDIO BONINI SRL in Vicenza and has been a member of the Order of Industrial Property Consultants since its inception in 1983.
Education:
graduated in electronic engineering from University of Pisa in 1967.
Professional Memberships:
AIPPI Association International pour la Protection de la Propriété Intellectuelle; FICPI Federation International des Conseils en Propriété Industrielle; INTA International Trademark Association; ECTA European Communities Trademark Association; LES Licensing Executives Society.
Academic Roles:
Supervisor in the engineering faculty of the University of Padua and of Vicenza; supervisor at the Politecnico di Milano for the Master of Specialisation in IP; supervisor for the Fondazione CUOA di Altavilla (Vi) Master of Innovation and Enterprise.
Practice Areas:
Lodgement and registration of patents, brands, models, and copyright in Italy and abroad; technical defence in legal actions, assistance in licensing, evaluation of industrial property title.
Languages:
English, French.
STUDIO BONINI SRL - Corso Fogazzaro, 8 - 36100 VICENZA, ITALY
Tel. (+39) 0444-324570 - Fax. (+39) 0444-230574
Web site: www.studiobonini.com